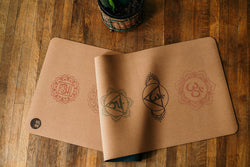 Description
Introducing our super light and all-round elegant cork yoga mat. The premium top layer of 100% natural raw cork provides a non-slip and antibacterial surface that requires minimal upkeep.
The dense 100% natural tree rubber base delivers unrivaled comfort, yet firm enough for stability poses. Our sustainable mats are chemical free and eco-friendly, that means they're free of latex and PVC's!
About The Design?
       The chakras symbols are meant to represent the cosmic geometry of the universe. Energy flows through the seven chakras that are the centers in our bodies. The beautiful chakra colors symbolizes our spiritual, emotional and physical state. This chakra energy design will bring peace and harmony to your practice while maintaining your awareness of your body's energy.
Product Details
Free Black Cotton Yogi Raw Carry Strap Included

Superior Traction

Multi-Purpose Carrying Strap Included

Non-Slip Base - Does not slide on the floor

Unrivaled Comfort - Protecting your knees & Joints

Minimalist Chakras Design to help your Alignment

Moisture Resistant 

Lightweight 

Repel Dust 

Anti-Microbial - Naturally eliminating bacteria

Highly Durable - The Cork Surface will never chip

PVC's & Latex Free, Phthalates Free, No Toxins, No TPE, No Harsh Chemical

Plastic-Free Packaging 

100% Vegan Product 
Dimensions 
 Length : 72 Inch

 Width :  24 Inch

Thickness : 3 MM

Weight : 1.9 kg