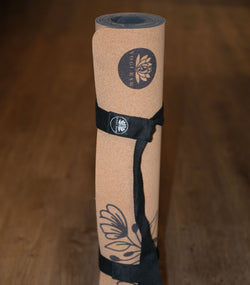 Description 
The premium top layer of 100% natural raw cork provides a non-slip and antibacterial surface that requires minimal upkeep. Cork is the outer bark of the Oak Tree and is a renewable resource. The outer bark of the oak tree is stripped down by hand, so they are never cut down! In addition, oak trees naturally regenerate their bark.
The bottom side of the mat is 100% natural tree rubber that is sustainably harvested from rubber trees, a renewable resource. Our mats are free of latex, harsh chemicals and PVC's. The bottom side of the mat has a cushioning to provide additional stability and support, yet firm enough for stability poses.
About The Design?
The Tiger stands for incredible strength. The duality of its strong physical male energy and intuitive female energy allows them to come out victorious in the face of adversity. A powerful mat for a powerful person! The perfect gift for a yoga enthusiast.
Product Details
Free Black Cotton Yogi Raw Carry Strap Included

Superior Traction

Multi-Purpose Carrying Strap Included

Non-Slip Base - Does not slide on the floor

Unrivaled Comfort - Protecting your knees & Joints

Minimalist Chakras Design to help your Alignment

Moisture Resistant 

Lightweight 

Repel Dust 

Anti-Microbial - Naturally eliminating bacteria

Highly Durable - The Cork Surface will never chip

PVC's & Latex Free, Phthalates Free, No Toxins, No TPE, No Harsh Chemical

Plastic-Free Packaging 

100% Vegan Product 
Dimensions 
 Length : 72 Inch

 Width :  24 Inch

Thickness : 3 MM

Weight : 1.9 Kg