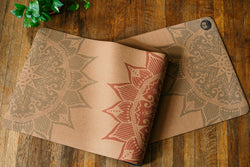 Mandala Spirit Cork Yoga Mat
Description 
Introducing our super light and all-round yoga mat. Did you know that many conventional yoga mats contain PVC and phthalates? These toxins can cause cancer, damage the reproductive system and respiratory systems through inhalation and skin contact!

The Yogi Raw Mandala Cork Yoga Mat features a premium top layer of 100% natural raw cork material that provides a non-slip and antibacterial surface that requires minimal upkeep.
The bottom side of the mat is made with an elegant dense 100% natural tree rubber sustainably harvested from rubber trees, a renewable resource. Our yoga mats are free of latex, harsh chemicals and PVC's. These mats deliver unrivaled comfort thanks to the material they were constructed with, yet firm enough for stability poses.
About The Design
The Mandala represents the cosmos as well as a spiritual journey within an individual. The simple and elegant mandala design will bring focus to your practice.
Product Details
Free Black Cotton Carry Strap Included

Superior Traction

Black Multi-Purpose Carrying Strap Included

Non-Slip Bottom - Does not slide on the floor

Unrivaled Comfort - Protecting your knees & Joints
Elegant Mandala Design 
Moisture Resistant 
Lightweight 
Repel Dust 
Anti-Microbial - Naturally eliminating bacteria
Highly Durable - The Cork Surface will never chip
PVC's & Latex Free, Phthalates Free, No Toxins, No TPE, No Harsh Chemical
100% Vegan Product 


Dimensions 
 Length : 72 Inch

 Width :  24 Inch

Thickness : 3 MM

Weight : 1.9 kg